Category Archives:
Bedroom Design
Post by Tracy Kaler.
If a guest room is new territory for you, a few basic pointers might be in order. Beyond the obvious –– such as a bed, nightstand, and bedside lamp –– a few other items is all it takes to make the space one in which your family and friends will envy each time they visit.
Fresh, crisp linens
Sleeping is number one in any bedroom, and a guest room is no different. High quality linens, or the highest quality you can afford will bring restful sleep to your overnighters. Be sure to choose 100 percent cotton, and have both down and foam pillows available since some people have an allergy to feathers.
Space for clothing
Whether your room has a closet or you choose a freestanding wardrobe, you'll need storage for clothing and other belongings. If your space is closet-less, a few wall hooks and a dresser may do the trick.
Luggage rack
A luggage rack can look fashionable as well as be functional. Your visitors also won't need to place their potentially dirty suitcases on nice, clean bedding when they unpack. Even a sturdy bench at the foot of the bed can work well to hold your guests' bags.
Beverages
A few bottles of mineral water, a tea setup or even a mini coffee maker will keep your guests from traipsing to your kitchen late at night or first thing in the morning. An ice bucket would be extra thoughtful for iced tea drinkers.
Bathrobe
A plush robe is the ultimate amenity, in my opinion. Warm when you're getting out of the bath or shower, and cozy in the chilly evenings or on top of PJs, a washable terrycloth robe is a must for any guest quarters.
Post by Tracy Kaler.
Most of today's luxury hotels have mastered the art of uncluttered design. If you're partial to that clean, modern look so prevalent in upscale hotel rooms, you might like to replicate the look in your own quarters. High-quality linens, straight lines, and a neutral color palette are a few starting points, but clipping a few photos of your favorite bedrooms can also inspire.
After viewing the images below and noting a few helpful hints, introducing that hotel look –– think W, Ritz, or Four Seasons –– into your bedroom is probably easier than you had once thought.
With its tall, upholstered headboard, room-darkening drapery, and neutral palette, this big city bedroom exudes modern luxury. Notice the perfectly made bed with crisp linens. Don't you want to crawl in?
This stylish bedroom comes complete with integrated headboard, plush bed covering, and black and white photography. The space boasts a design similar to a boutique hotel, but still offers plenty of personality.

Contemporary Bedroom by London Interior Designers & Decorators Compass and Rose
More spacious than the average hotel room, this bedroom is more like a corner suite with its comfy sitting area and natural light. Still, the design is simple and elegant and could easily pass for a luxury hotel.

Transitional Bedroom by London Interior Designers & Decorators Helen Ford Design
Minimalist design is evident in this cream and white bedroom. The dark wood floors and paneled bed wall add some depth to the otherwise light, bright room. The perfectly dressed bed resembles billows of clouds and completes this simple yet sumptuous space.
The fireplace isn't a typical hotel amenity, but you might occasionally find one in a high-end boutique hotel. Regardless, if you're lucky enough to have a fireplace in your bedroom, treat it as you would the rest of the room –– keep it modest and understated.

Contemporary Bedroom by Laguna Beach Architects & Building Designers Aria Design Inc
Post by Tracy Kaler.
Paisley might not be the most obvious choice when selecting pattern for a bedroom. Believe it or not, however, depending on the material, style and color, this popular design can fit into almost any interior. These are four wonderful bedrooms with paisley elements sure to make you swoon for more.
This room proves how lovely paisley can be in a bedroom. Jennifer Robins Interiors mixed color and texture beautifully in this Santa Rosa residence. The oversized paisley print on the headboard creates a backdrop for the room. Notice how this headboard extends beyond the bed. A matelassé coverlet and cable-knit throw keep the room on the casual side while the zigzag novelty pillow is a statement piece.
Colorful and chic, this kids' room boasts an Osborne & Little wallpapered accent wall, which is just the right amount of paisley. Contrasting buttons on the bed pick up the turquoise color, and hot pink introduces yet another splash into the already bright room. The space could easily be an adult's quarters too. I'd sleep here, wouldn't you?
Marrying stripes with paisley is a great idea as you can readily see in this bedroom. Shades of pink and orange combined with contemporary furniture such as a pair of tulip tables, represent the endless decorating possibilities when you think outside the box.
Silver and white paisley on the duvet and shams brings enough pattern into this delightful, upscale bedroom. Some may say the space has a traditional vibe while others might feel it's more modern. Regardless, no one can deny that this is a great looking room.
Post by Tracy Kaler.
We often associate dark browns with masculine rooms, and most people wouldn't deem chocolate a feminine color. I'd have to agree, but I'll also tell you that rich, chocolate browns can often be successfully combined with girly colors such as pink, tangerine, and yellow.
That being said, take a moment to swoon over these five pretty rooms in which chocolate brown plays a starring role.
Speaking of pink –– this room is a prime example how lovely chocolate and pink can look together. The deep color of the headboard and bedcovering adds a lavishness to the otherwise pastel and white space. The designer used a banding on the draperies for another touch of cocoa.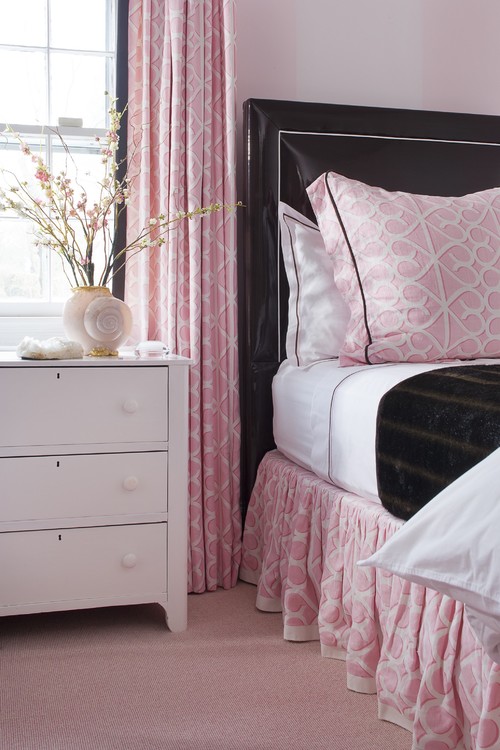 Traditional Kids by Fairfield Interior Designers & Decorators Tiffany Eastman Interiors, LLC
This room oozes fun and was obviously designed for a young man. Chartreuse green touches break up the deep brown accent wall and duvet. Chocolate brown shelving appears as if it's growing from the wall.

Contemporary Kids by Las Vegas Interior Designers & Decorators DIVA INTERIOR CONCEPTS
This room is proof that brown can work well on a ceiling. Not only does the color add warmth, but this shade turns an otherwise neutral room into a dramatic space.
I love the simplicity of this room! A chocolate brown headboard looks rather stately, yet the bold geometric pattern on the pillows lightens the mood. The lime green nightstands are the ideal accent color for this happy bedroom.

Contemporary Bedroom by Chico Kitchen & Bath Fixtures Build.com
I am wild about this paisley duvet, which breaks up the other chocolate bedcovering. Pale silver walls, crisp white, and the starfish prints make for a stunning bedroom. The space has the right amount of brown and the perfect touch of pattern.

Beach Style Bedroom by Little Rock Interior Designers & Decorators Tobi Fairley Interior Design
Post by Tracy Kaler.
Don't have a design direction for your bedroom? Maybe you have one of those rooms with too many doors and windows, and you don't know where to place the bed. Or, maybe picking colors isn't your strong suit, and you always turn to ho-hum beige. Hiring an interior designer to decorate your sleep space might be worth your time and money, but before you make a commitment to work with any decorator, here are a few things you should do first.
Create an inspiration file.
Use Pinterest or look through magazines and websites to create a file of bedrooms you like and would love to be yours. Doing research will establish a direction for you and the person you potentially hire.
Meet with several design pros.
Ask friends and look online to peruse portfolios and check references. Meet with at least three designers, and get a feel for how each would approach your project. Even if you have to pay a consultation fee, you'll get practical advice, and chatting for an hour or two will get you one step closer to selecting the right person.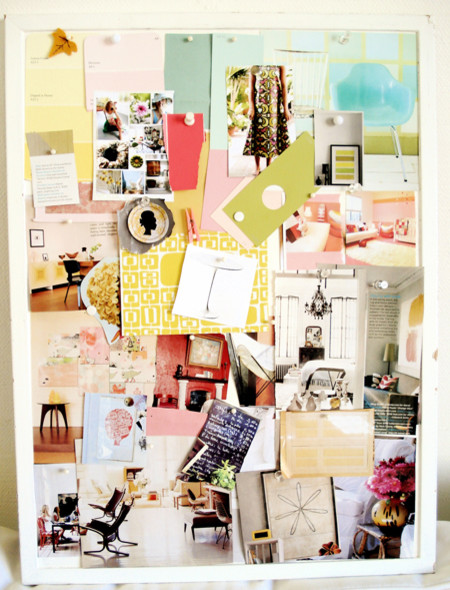 Know your budget.
Before you start your bedroom project, have a number in mind and communicate that to your would-be designer. Some decorators have minimums, so you might be expected to invest a hefty sum. Others will accept any project, and be happy to work with you, even if you're scope is small and your budget smaller. By establishing a number in your mind, you'll also know pretty quickly if you can afford to hire someone in the first place.
Be clear about what you like and don't like.
Even in your initial meeting, be clear about what you like and don't like, as well as your wish list. King bed? Upholstered headboard? Storage? A sitting area? Be sure that you're on the same page as the person you might work with and your expectations are reasonable. Plus, establishing great communication from the get-go sets the tone for a working relationship with the interior designer you select.