Category Archives:
Bedroom Design
Post by Tracy Kaler.
Now that fall has officially arrived, your bed might need some sprucing up for the change of season. Perhaps you're considering an alternate coverlet or shams, a fresh set of sheets, or even a brand new mattress. Well, even if you're on a budget, you can give your bed a fresh look without breaking the bank. You might try making your bed in a different way, and dressing it up in another fashion. Here are four different ways to dress a bed.
Bedding at the foot
A relaxed fold at the foot of the bed is one way to dress a coverlet or comforter. This one happens to be fairly unstructured, but you could certainly tight it up a bit depending on the thickness of your covering. Doesn't this bed make you want to climb in for a nap?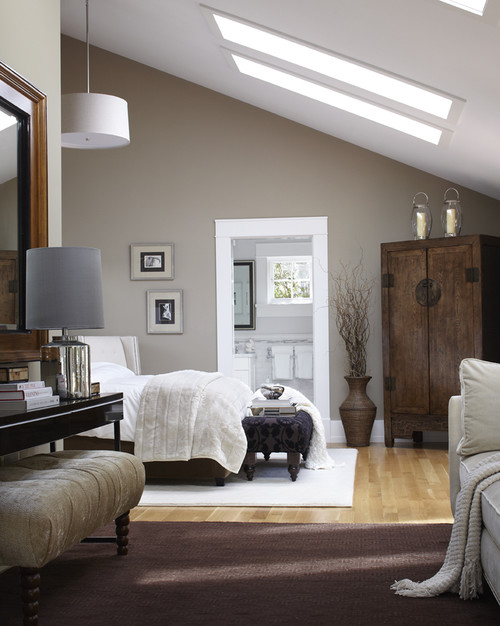 A tucked band
Use a contrasting piece of fabric for a tucked band like this white Matelassé. Although neutral, 12 inches or so of white coordinates well with the throw pillows. Use a solid, or if you're daring, a pattern. A floral, paisley, or abstract would be a great way to introduce color and interest on an otherwise solid, pattern-free bed. The key is to tuck smoothly and tightly. And you can experiment with different materials for the band; perhaps keep one for each season.
Tucked all around
You'll need crisply pressed sheets for this bed dressing. Fold your flat sheet down over top of the covering, which could be a coverlet or blanket. Tuck all edges in and make a nifty fold in the corners. This clean style works best with an upholstered headboard and bed frame.
Covered in full
Not exactly feeling adventurous in the bed-making department? That's okay! You can still have a stylish bed and keep it simple. With a fluffy comforter like this, the best way is to pull the covering to the top of the bed and under the pillows. This design is quick and painless for those of you with a tight schedule and little time to make the bed each day. And, the matching sham, pillows, and bright orange throw complete the look. See. It's not that tough making a bed, after all.
Remember, there are no rules when it comes to making your bed, except to do it each day. And if none of the above suggestions suit, get creative and design one of your own.
What's your favorite way to dress a bed?
Post by Tracy Kaler.
The Glamour of Hollywood has influenced interiors for decades, and continues to do so today with bold colors, plush textiles, and dramatic black and white photography. Alluring and seductive, these four bedrooms will make you feel Academy Award worthy, and ready to settle in with a dry martini and one of your favorite films in bed.
The teal, cream, and gold color scheme is not only appealing, but soothing and comfortable. The high tufted headboard with the furry throw pillows bring luxury, the mirrored nightstands add a touch of vintage, while the geometric wall covering sets the room's mood. The decorative throw is magnificent and feminine, and the fuzzy rug softens.
White probably doesn't seem an obvious color choice for a Hollywood-style bedroom, but here we see that's not the case! A shag rug, faux fur bed covering, and pendant lamps exude decadence. The classic Mies van der Rohe Barcelona chair defines the corner, and a simple black and white picture hangs almost too high, yet balances the lowness of the rest of the space.
div>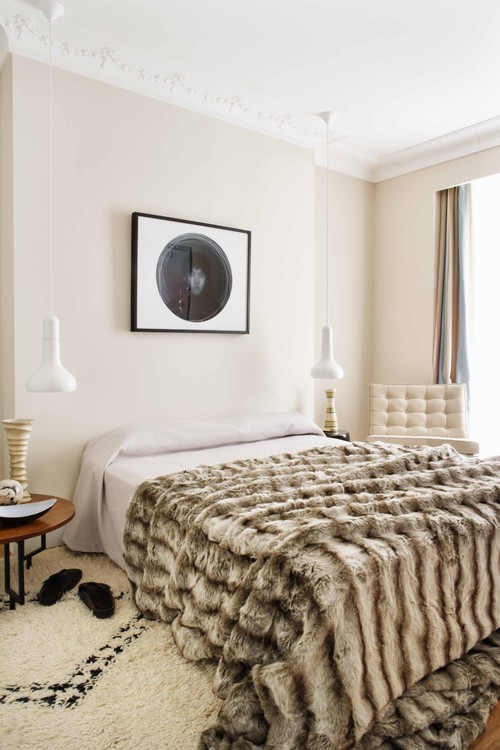 The silver and red color scheme is all it takes to feel rich and glamorous in this Four Seasons residence. Components like the tufted platform king bed, the over-sized crimson sofa, the silver wall-to-wall carpeting, and the simple, modern lighting create a feeling of grandeur. In my opinion, the abstract art is the focal point in the room.
This bedroom is an example of true glam, Hollywood style. Silk upholstery, lucite and glass are simply bewitching in this space by Barclay Butera. The room boasts just the right amount of pattern, while the ivory color scheme contrasts, and the lighting creates ambiance. This five-star room looks like a celebrity's sanctuary.