Tag Archives:
Charles P. Rogers
Post by Tracy Kaler.

Photo by Enviable Designs Inc.
Is your bedroom feeling a bit too basic? Believe it or not, you won't need to commit to a major overhaul to transform your bedroom into a luxurious sanctuary. With a few additions and edits, your bedroom can look and feel luxurious. Here's what to do.
Layer your bed.
If you love how a hotel room exudes luxury and you want your bedroom to feel similar, you can do it by layering. Try adding a down topper to your mattress, then a down comforter inside a duvet cover. If you're allergic to down, opt for a coverlet over a soft blanket. Several bed pillows, overstuffed decorative pillows, and a throw at the foot of the bed will complete the look. You'll be anxious to crawl into your comfy cocoon every night.
Rethink your nightstand.
Nightstands without drawers don't work for a lot of people. The truth is – even one drawer can help keep clutter at bay. An uncluttered bedroom is more likely to feel luxurious that one with tchotchkes strewn about. If you have a bedside table, considering switching it out for a nightstand with drawers and keep your belongings inside.
Use warm white light bulbs.
It's no surprise that lighting creates ambiance, and in a bedroom, we need more mood than we do in other rooms. Switching bulbs to warm white can make all the difference in the overall feel of your bedroom, and even make you and your mate or guests look more attractive.
Aim for less.
Less furniture doesn't need to make a room look sparse or empty. Place a few quality, key pieces –– a bed, dresser, nightstands, and perhaps a chair or chaise lounge, and let each item shine.

Post by Tracy Kaler.
Thanksgiving has come and gone, and December is here. That means one thing: it's the most wonderful time of the year. Sure, the days grow shorter and the nights last longer, but holiday stockings, twinkle lights, and sugar plums abound. Shopping, baking, entertaining and traveling take center stage, and most of us look forward to decking the halls in our spare time. Decorating doesn't need to be kept to the living room or exterior of your home, either. You can introduce holiday cheer to any space, be it your kitchen, bath, office, or bedroom. Get inspired by these five bedrooms, each of which is geared up for the holiday season.
This transitional Phoenix bedroom feels joyful with the winter greenery and pine cones. Lime green lamp shades provide contrast to the black furniture and black and white area rug.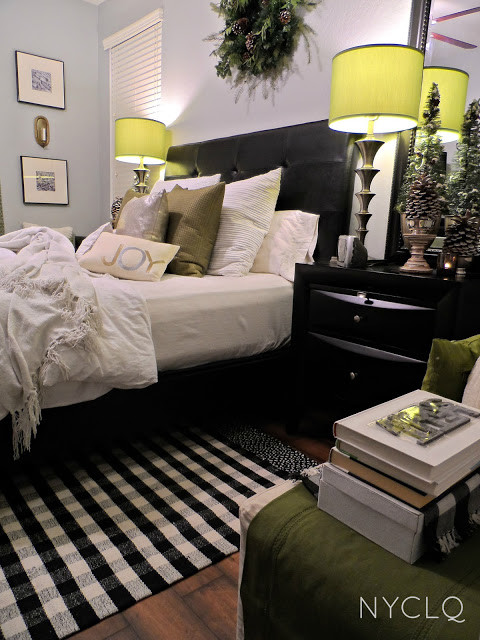 Red accents on the bed, an evergreen wreath, white lights, and various other holiday tchotchkes allow this bedroom to feel a lot like Christmas.

A gender-neutral kids' room in Australia has fun with fireplace décor. Children of all ages adore Nutcrackers (and even some adults). You can easily add one or several to any bedroom.

This Denver home takes on the feeling of a ski lodge. Red and green combined with the snow-capped mountains in the distance lend a Christmas theme.

What's not to love about this sweet, youthful bedroom? Swap out the accessories, and you'll have a woman's guest room rather than a child's bedroom. Subtle mini-wreaths make the space feel festive.
We hope you'll decorate your bedroom this holiday season!
Post by Mark T. Locker.
Bedtime Stories: How This Book Was Made by Mac Barnett and Adam Rex.
So you think you know how a picture book comes into being? You may think you know, but you don't. I don't think you took into account the pirates, or the arm-wrestling tigers. Or the roaring fires of discarded drafts. No, you don't know how this book was made at all.
From the mind and hands of Adam Rex and Mac Barnett comes another clever and hilarious picture book. Mac Barnett writes with a number of talented illustrators but his work with Adam Rex is my favorite. I see this book as a companion piece to Barnett/Rex's 2012 picture book Chloe and the Lion which is another behind-the-scenes peek at the making of a picture book. Where Chloe looked at the collaboration between author and illustrator, How This Book Was Made looks at the process from inception to publication. In some ways, it really does explain how this book was probably made, though of course embellished and changed to make it interesting for children.
When Mac Barnett tells you his editor sent him back the first 20 drafts of the story, you can't help but believe that this was indeed the case. But whether or not he burned the other drafts to scare away the tiger bent on revenge cannot be confirmed or denied.
To take Mac's word on it, the process of getting the book from his original idea to becoming the copy in your hands is an incredible process! Adam Rex makes a valuable contribution, turning simple statements like "I found a quiet place to write" and placing the author at the top of a ladder on the top of a desolate mountain. Although Mac insists "it took the illustrator took a VERY long time to draw all the pictures" it was definitely worth waiting for his fantastic illustrations.
Post by Tracy Kaler.
Once again the holiday season is upon us, and we all have too many things to accomplish in a limited amount of time. As the most stressful month of the year approaches, now more than ever, we need a place to relax and recoup. That place is often our bedroom.
Last week, we looked at what makes a great bedroom, and one of the components was a space to relax. Heed these tips to create a relaxing bedroom, ideal for unwinding during the holiday season or at any time of the year.
Choose the right size bed.
A comfy bed is a given, but what about size? Many couples prefer a king bed, so they have plenty of space to sprawl. A queen-size should be the bare minimum for two people. Twin beds are suitable for singles, but depending on the person's size, a double bed might be comfier. Taller folks should opt for extra-long beds.
Treat the windows.
Window treatments soften a space and help with light control. They can also enhance the mood of a room, so every bedroom should have shades, blinds, and or curtains, which also can keep a room soundproof and block out the world outside.
Control temperature.
Make sure that your bedroom isn't too warm or too cool. Adjust the thermostat, don't block heat or an air conditioning source, install a ceiling fan if possible, and if not, add a table fan for air circulation.
Organize.
No one wants clutter, and if you want to chill out in your bedroom, you won't want it either. Stay organized and purge anything you don't need. You'll thank yourself later.
Use aromatherapy.
If you haven't experimented with scents in the bedroom, now is a good time to start. Use lavender and sage essential oils and candles to encourage relaxation and promote sleep.
Maintain.
Keeping a bedroom tidy might not seem like an important step in creating a relaxing bedroom, but cleanliness is essential. If you want your bedroom to be your sanctuary, treat it as such. Clean once per week, and be sure that HVAC, lamps and any electronics are in working order.