How our beds are made

Our Beds & Headboards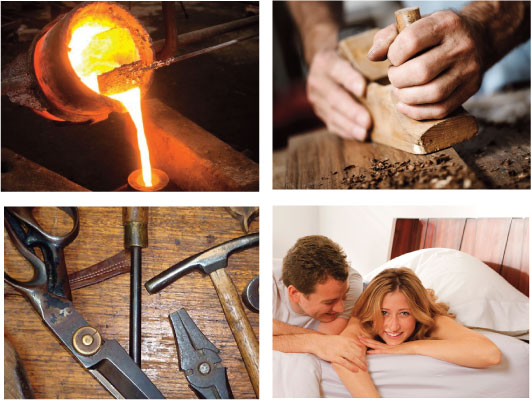 "Built up to a standard, not down to a price."
Beds & Headboards. Made by hand, one at a time.
Iron and Brass Beds & Headboards
Tubing is pure, heavy gauge brass or heavy wall thickness steel.
Decorative parts are individually cast, using carved wood patterns and sand molds
Forged iron components are solid iron bar, heated and hammered to shape by hand.
Details are precise and fully formed.
Solid metal to metal connections create an extremely rigid framework.
Components are hand finished in matched sets prior to assembly.
Painted finishes, applied by hand in layers have a soft, natural patina and are repairable.
Rail system, supporting the headboard, footboard and bedding, is carefully designed lifetime of service.
Wood Beds & Headboards
Responsibly sourced lumber is plantation grown mahogany and select hardwoods.
Components are fashioned from oversize lumber stock which we cut and kiln dry ourselves.
Veneers are carefully sliced and matched for grain and color.
Power tools are used for milling and cutting, components are finished by craftsmen using sharp hand tools.
Traditional methods of joinery allow for natural movement of wood with seasonal changes in temperature and humidity.
Surfaces are hand sanded. Finishes are applied in multiple layers then hand rubbed to a soft sheen.
Rail system, supporting the head/footboard and bedding, has an internal steel structure designed lifetime of service.
Upholstered Beds & Headboards
Finest top and full grain leathers and upholstery fabrics.
Framework is handcrafted from kiln dried hardwood.
Upholstery padding is built up in multiple layers to provide an appropriate level of firmness and comfort.
High resilience foam padding conforms to the required shape and returns to its full, original contour.
Tufting is done by hand in the traditional manner.
Great care is taken in the actual upholstering process to ensure a high quality fit.
Rail system, supporting the head/footboard and bedding, has an internal steel structure designed lifetime of service.
Our commitment to making beds responsibly.
Steel and brass mostly post-industrial recycled and is 100% recyclable.
Hardwoods used in our beds are plantation grown
Adhesives and finishes are natural and/or non toxic water based (no harmful solvents).
Our finishes are repairable ensuring lasting beauty and longeveity
Over 7 generations of satisfied customers:

Bob M, IN
Ordered this Mattress because Consumers Reports, outstanding product, my guests could not be happier, extreme quality , the real deal!

Bob M






Rafi, FL
A truly firm. sleepable daybed. Purchased the 33" daybed with the Chelsea mattress for our home office. It's great for that afternoon nap, as well as for the occasional overnight house guest. As with ...

EJRieder, PA
I had my eye on this bed for a while and I finally bought it a few years ago. I love the lyrical look of this bed - open and organic. It is excellent quality and I had exceptional customer service whe...
Questions? Help? Click on chat link or call 800-582-6229