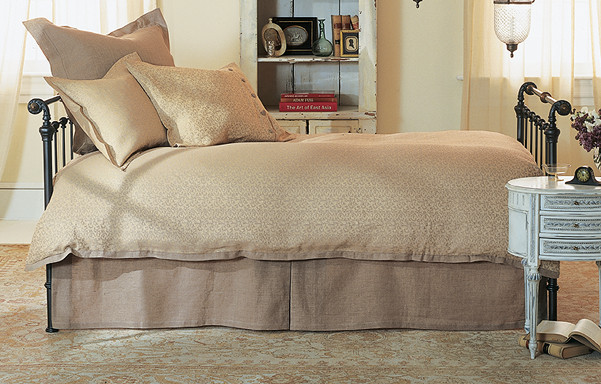 Iron and brass sleigh daybed – wrought iron
Iron and brass sleigh daybed with trundle
Iron and brass sleigh daybed vintage white room view
Iron and brass sleigh daybed antique white room view
Iron and brass sleigh daybed wrought iron finish detail
Iron and brass sleigh daybed vintage white finish detail
Iron and brass sleigh daybed antique white finish detail
Chelsea daybed mattress
Iron and brass sleigh daybed upholstered platform for mattress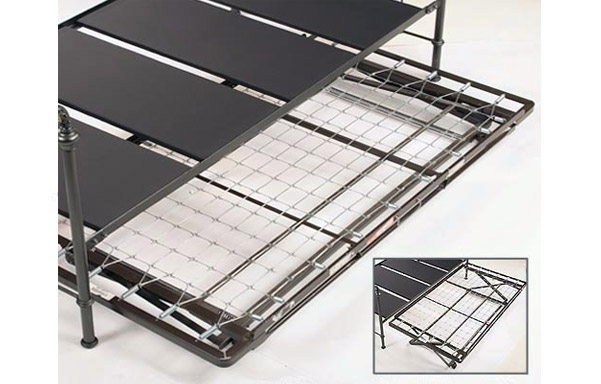 Iron and brass sleigh daybed upholstered platform for mattress and trundle frame
Iron & Brass Sleigh Daybed
Reg. $1,898 to $3,556, Now from $1119.20
Make selection to preview price:
MAKE SELECTION FOR EXTRA DISCOUNT
CLICK ADD TO CART TO SEE ADDITIONAL OPTIONS
One of our most classic daybed designs. Decorative elements are sand cast directly onto the iron framework in the traditional manner. Molten metal is poured into molds on the frame, giving it an unsurpassed strength and authentic charm. Solid brass accents. Optional trundle unit can store extra mattress and pops up for use when needed.
Heavy iron frame
Decorative elements cast on frame
Pure brass turnings and crest rail
Wrought iron, antique white or vintage white finish
Standard 39" twin sizes
Non-slip padded platform
Heavy-duty hardware
Uses a mattress only
Optional pop up trundle unit
Daybed w/ Upholstered Platform
Daybed 39" Dimensions:
Length 83-1/4"
Width 42"
HB Height 37"
FB Height 37"
Height from floor 14-1/2"
Shipping Class D

Free Delivery
Delivery
Items that are in stock are ready to ship within a few days. When you add an item to your cart, availability is shown next to each item on your order.
Where We Deliver
Shipment to most continental U.S. addresses is made by our own trucks or carriers that specialize in furniture delivery. We take care of all the arrangements and you will be contacted when the delivery is scheduled to be made. Shipment to remote locations, off mainland, Hawaii, Alaska, Canada and international addresses is easily arranged (give us a call for a quote).
Delivery Service Types
Depending on weight and size, items are shipped one of two ways to most continental U.S. addresses: White Glove or Express Delivery. The "Shipping Class" on each product page specifies the type of delivery.
Shipping Class D - Express Delivery
Delivered to your door. Applies to items where size and weight allows faster, more economical shipping. Available to most continental U.S. addresses.
| | |
| --- | --- |
| Class D | Twin |
| Daybed w/ Upholstered Platform | 170 |
Clearance items are delivered to your door and do not include extra white glove services.
FREE DELIVERY TODAY ON ORDERS OF $299 OR MORE
Optional Services
- Removal of old mattress or mattress set is available for an additional charge in most locations or it will be brought to a designated location on premises area. For more information give us a call at 800-582-6229 or email info@charlesprogers.com.
- To deliver up more than two flights of stairs give us a call at 800-582-6229 or email info@charlesprogers.com. We're here to help.