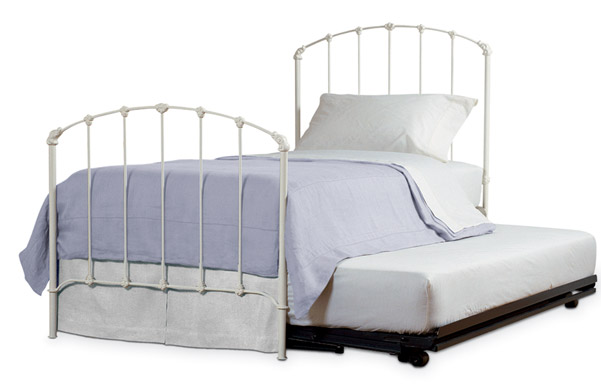 Rutherford trundle bed and under bed trundle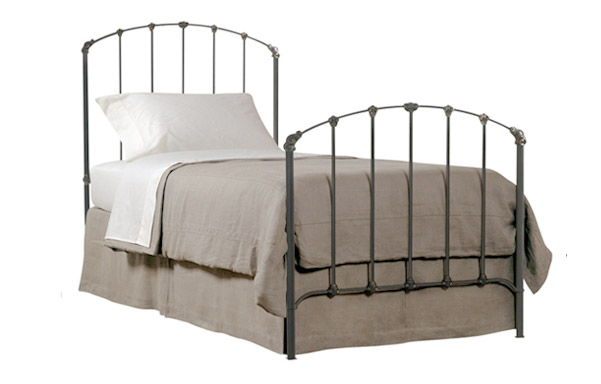 Rutherford trundle bed in black iron with gilded highlights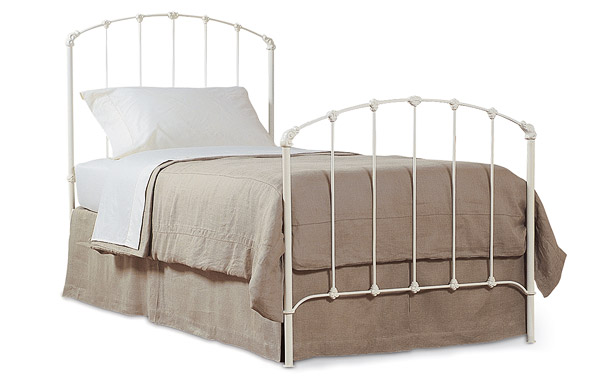 Rutherford trundle bed in antique white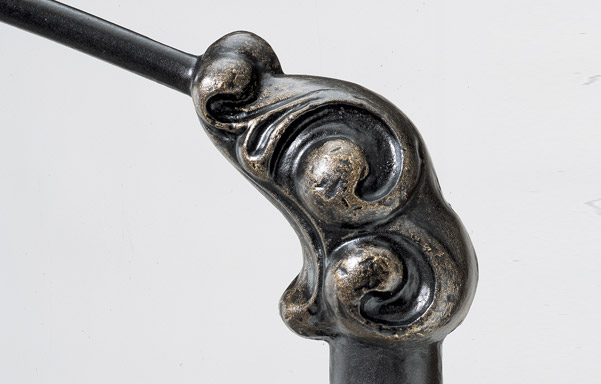 Rutherford black iron with gilded accents finish detail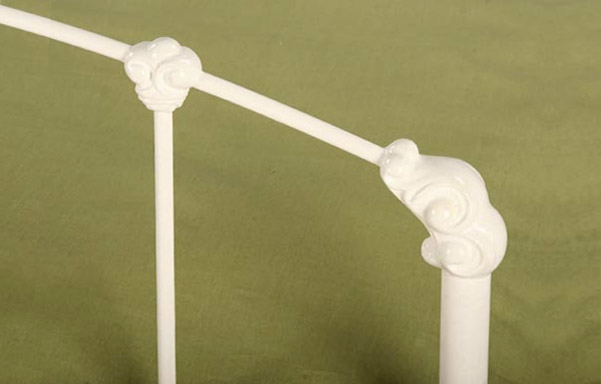 Rutherford antique white finish detail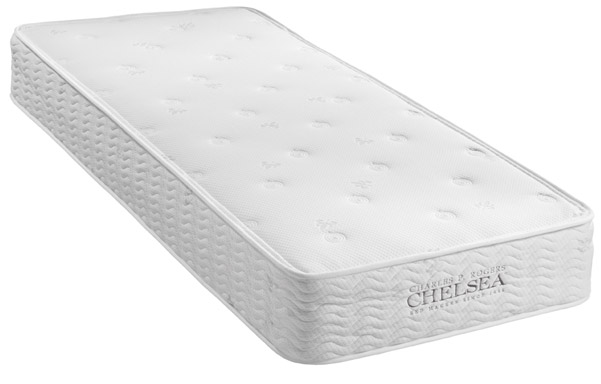 Chelsea trundle bed and daybed mattress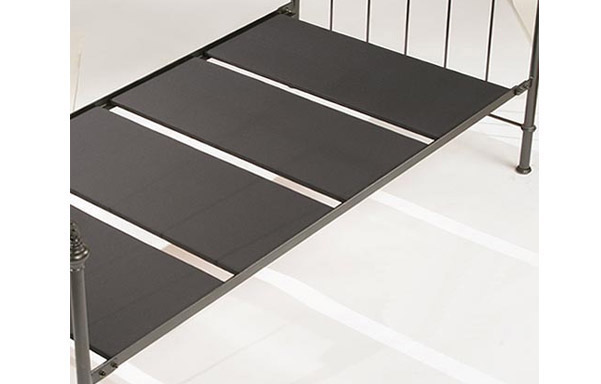 Trundle bed upholstered platform for mattress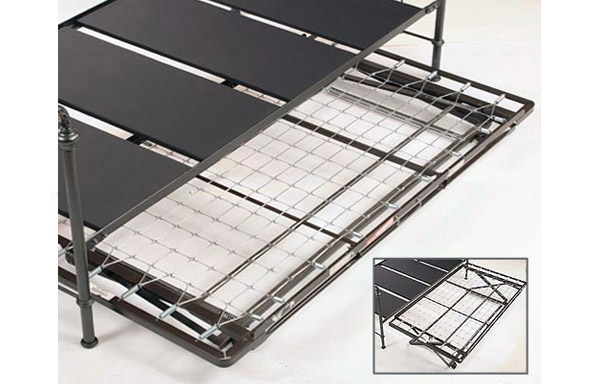 Under bed trundle frame pulls out and pops up for use as a second bed
Rutherford trundle bed pair in room set
Rutherford Trundle Bed
Reg. $1,399 to $3,256, Now from $879.20
Make selection to preview price:
MAKE SELECTION FOR EXTRA DISCOUNT
CLICK ADD TO CART TO SEE ADDITIONAL OPTIONS
Our original hand-forged Rutherford bed in a trundle bed design for multi-use functionality. Solid iron with cast on frame accents. Second mattress can be stored under bed on optional trundle unit which pops when needed.
Heavy iron frame
Decorative elements cast on frame
Antique white or black with gilded highlights
Standard 39" twin sizes
Non-slip padded platform
Heavy-duty hardware
Uses a mattress only
Optional pop up trundle unit
Bed Trundle w/ Upholstered Platform
Twin Dimensions:
Length 81"
Width 41"
HB Height 50"
FB Height 40"
Height from floor 14-1/2"
Shipping Class D

Free Delivery
Delivery
Items that are in stock are ready to ship within a few days. When you add an item to your cart, availability is shown next to each item on your order.
Where We Deliver
Shipment to most continental U.S. addresses is made by our own trucks or carriers that specialize in furniture delivery. We take care of all the arrangements and you will be contacted when the delivery is scheduled to be made. Shipment to remote locations, off mainland, Hawaii, Alaska, Canada and international addresses is easily arranged (give us a call for a quote).
Delivery Service Types
Depending on weight and size, items are shipped one of two ways to most continental U.S. addresses: White Glove or Express Delivery. The "Shipping Class" on each product page specifies the type of delivery.
Shipping Class D - Express Delivery
Delivered to your door. Applies to items where size and weight allows faster, more economical shipping. Available to most continental U.S. addresses.
| | |
| --- | --- |
| Class D | Twin |
| Bed Trundle w/ Upholstered Platform | 195 |
Clearance items are delivered to your door and do not include extra white glove services.
FREE DELIVERY TODAY ON ORDERS OF $299 OR MORE
Optional Services
- Removal of old mattress or mattress set is available for an additional charge in most locations or it will be brought to a designated location on premises area. For more information give us a call at 800-582-6229 or email info@charlesprogers.com.
- To deliver up more than two flights of stairs give us a call at 800-582-6229 or email info@charlesprogers.com. We're here to help.
Would you recommend this product?
Yes
Review:
"Although our daughter is only 3 1/2 years old, she has great taste and was thrilled she was graduating to a big girl bed. My husband and I have had our own Charles P. Rogers bed for over 10 years and it looks as if we just purchased it. We now know that our daughter will have her bed for her lifetime and if she chooses the next generation of girls somewhere in this family. We've also spent our dollars wisely and a purchase from Charles P. Rogers, is not a purchase, it is an investment that last many lifetimes."
Would you recommend this product?
Yes
Review:
"I searched weeks for the perfect big girl bed for my 3 year old daughter. We live in small 2 bedroom townhome, so I was looking for a bed that would also work as a comfortable guest bed for visitors. The bed is beautiful, timeless, superiorly built and super comfortable. I have no doubt it will last for generations. My daughter loves having the option to sleep on the trundle which is closer to to the floor; it also acts as her "step ladder" to the regular bed. When she sleeps on the regular bed, I pull the trundle bed out half way, to cushion her in case she falls. My husband is a firefighter, and my daughter and I often have sleepovers on the nights he stays at the firestation. I find the regular bed (more firm) and the trundle bed (a little softer because of the springs) both comfortable. We had my in-laws over for holidays, and they too slept comfortably in the bed ( configured as King Size bed and a two separate beds). I just wish I new about Charles P Rogers before I bought my our master bed. We will now only buy beds from Charles P. Rogers!"